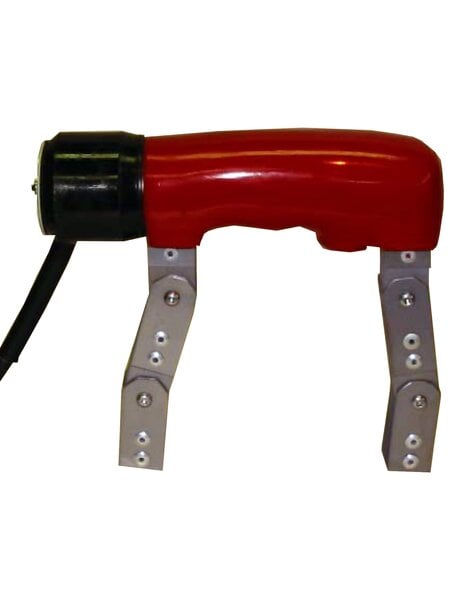 ---
Developed for Underwater use
---
Supplied with a Pig Tail
---
The Western Instruments WC-6UW Compact Underwater Yoke is developed for Underwater use, such as Offshore Platforms, Pipelines, Ships, etc. The WC-6UW is supplied from a switchable Top Side power supply; 115 or 230 VAC, Pulsed DC, or a 12 Volt Battery. The WC-6UW is supplied with a Pig Tail, or optionally with 250 feet (76m) of Power Cable.
The Western Instruments WC-6UW Compact Underwater Yoke is an AC Yoke designed for Underwater Magnetic Particle Inspection. The WC-6UW induces a magnetic field into the ferrous material being tested from an external power supply. This power supply can be either 115VAC (or 230VAC K Models) or 12VDC), but must be fully grounded and equipped with a GFI.
The Western Instruments WC-6UW Compact Underwater Yoke is manufactured for full submergence to 300 (91m), thus it is exposed to high static heads. To counteract this pressure, each lamination within the Iron Lamination Frame is sealed to prevent the ingress of water.
Model
WC-6UW (115V)
WC-6UWK (230V)
Voltage
115VAC
230VAC
Frequency
60 Hz
50 Hz
Current
4.0 Amps
2.0 Amps
Controls
Top Side or Approved Underwater Device
Capacity
<10 Pounds (4.5kg) in AC
<50 Pounds (23kg) in DC
Pole Spacing
0-11" (0-280mm)
Pole Cross Section
1" (5mm)
Weight
6.5 Pounds (3.0kg)
Portable MPI Yoke Inspection Kits

Western Instruments' Yokes are offered in a wide variety of configurations, more than any other manufacturer of Portable Yoke Kits. No matter the need, Western's Kits are offered in Dry Method, Wet Visible Method (Black or White), or Wet Fluorescent Method. The End User simply chooses his Yoke, and his model of Kit, and they arrive in the same custom Carrying Case.
Western Instruments W-PPS Portable Inverter Power Supply

The W-PPS (W-PPSK) is a Portable Power Supply designed to operate any of Western Instruments standard AC or AC/DC Yokes. The W-PPS is equipped with an appropriately sized Battery, Battery Charger, and Inverter which should be used within the parameters in the manual.