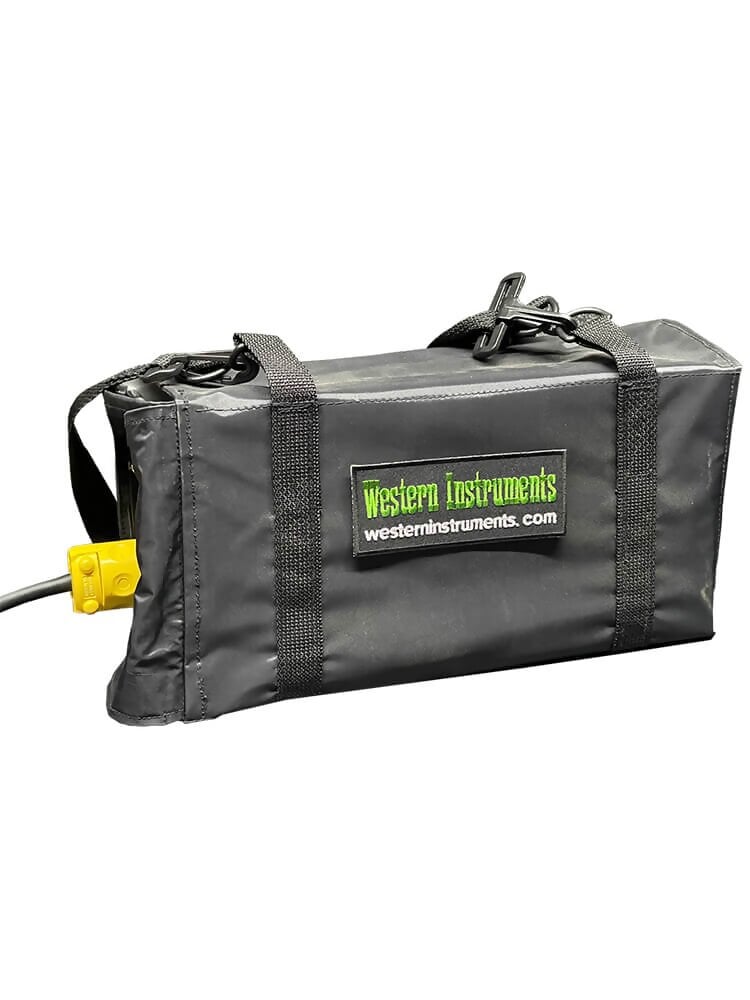 ---
Portable Power Supply designed to operate any of Western Instruments standard AC or AC/DC Yokes
---
These models draw 4 Amps at 115/60 Power and 2 Amps at 230/50 Power, which is well within the output of the 2 types of inverters (115 and 230VAC)
---
The Western Instruments W-PPS Portable Inverter Power Supply is a Portable Power Supply designed to operate any of Western Instruments standard AC or AC/DC Yokes. The W-PPS is equipped with an appropriately sized Battery, Battery Charger, and Inverter which should be used within the parameters in the manual.
12 Volt Battery
Inverter
Battery Charger
Aluminum Chassis
Reinforced Canvas Satchel
Battery Charger;The charger will sense the condition of the battery, re-setting for an optimum charging cycle. Leaving the Charger connected to Mains Power, while operating a Yoke, will cause the Charger to draw full power and may cause an incomplete charging cycle for the Gel Cell Battery.The Mains Power Plug is accessible inside the Access Flap on the Canvas Bag.
Inverter;Western Instruments Model PC115-400F (PC230-400F) Inverter isequipped with an On/Off Switch and Status LEDs. The Inverter is equipped with 2 Standard North American AC receptacles, while the 230 Volt Model is equipped with a single Universal AC Receptacle.These items are accessible inside the Access Flap on the Canvas Bag.
The opposite end of the inverter is where the Pusher Cooling Fan is located, as well as the two fuses that are to protect the Inverter from an extended overload or short circuit.The Inverter is also equipped with a Temperature Protection circuit, that turns the unit off when it reaches 130F (55C).Lastly, when the output voltage from the battery drops below 10 VDC, the Inverter output stops, and the indicator LED will be red.
The W-PPS and the W-PPSK are designed for Western Instruments very efficient WC and WE-Series Yokes.These models draw 4 Amps at 115/60 Power and 2 Amps at 230/50 Power, which is well within the output of the 2 types of inverters (115 and 230VAC).
You have just unplugged the charger on your W-PPS, and left your base.When you arrive to your inspection site and are ready to start testing, plug in your AC Yoke and turn on your W-PPS.The battery on your W-PPS will permit your Yoke to lift 10 Pounds (4.6kg) for over 1 1/2 hours continuously, which means that you should have a little reserve power left after 8 hours of intensive MPI (Yoke activated 20 to 25% of time).