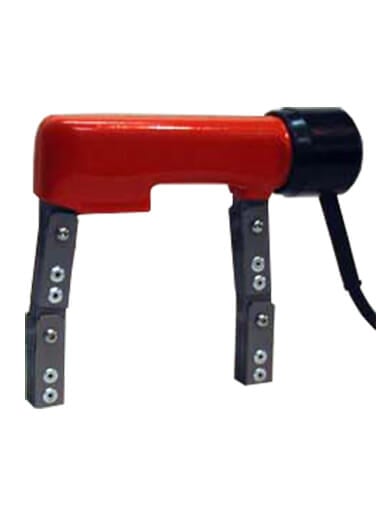 ---
Ultra-Light Weight, Comfortable Urethane Rubber Grip, Slip-in Switch Cover, Standard Micro Switch, Rugged strain Relief & Durable
---
Full current, not sealed switch with slip-in switch cover
---
The Western Instruments WE-3LT Light Weight AC Magnetic Yoke is the latest development triumph in Portable Magnetic Particle Inspection Equipment. This light weight yoke is over 30% lighter than any of our other AC yokes (WC-6, WC-6x2, WE-3HD and WE-3) with a good hand grip that is 40% smaller.
The Western Instruments WE-3LT Light Weight AC Magnetic Yoke is Western Instruments latest development triumph in Portable Magnetic Particle Inspection Equipment. This revolutionary Light Weight Yoke is over 30% Lighter than any of our other AC Yokes (WC-6 WC-6x2, WE-3HD, & WE-3), with a hand grip that is 40% smaller. This exceptionally Light Yoke is the result of superior Electrical Engineering and Design, made possible by strict quality control measures. The WE-3LT utilizes many of Westerns exclusive features such as our Slip in Switch Cover, Rugged Strain Relief and ergonomically designed Hand Grip. The WE-3LT is what all inspectors have been asking for, a smaller, lighter Yoke illustrating the fact we listen to our customers. The WE-3LT is a practical alternative to our other Premium Quality AC Yokes.
The ergonomically designed housing combined with its Light Weight, reduces operator fatigue and strain, for more effective inspections. The compact design and adjustable Power Cord position, allows the WE-3LT to fit into confined spaces better than any other Yokes. The urethane rubber housing provides superior durability in rugged environments, so the WE-3LT is suitable for the high Arctic or the Sahara desert.
The WE-3LT lifts well over 10 pounds, exceeding ASTM or ASME Specifications for AC Yokes. Performing Magnetic Particle Inspection, with an AC field, is the fastest and easiest way to find surface discontinuities. The AC field provides maximum magnetic particle mobility, which cause Magnetic Particles to migrate quickly and congregate at defects. Demagnetization is simple with this one man inspection, the operator simply activates the Yoke while pulling it off the workpiece.
Ultra-light Weight
Comfortable Urethane Rubber Grip
Slip in Switch Cover
Standard Micro Switch

Rugged Strain Relief
Durable
Economical
Voltage
115 and 230 VAC Nominal
Models
WE-3LT (115 Volt)
WE-3LTK (230 Volt)
Current
4.0 Amps (115V), 2 Amps (230V)
Frequency
50-60Hz
Cord Length
8(2.5m), AWG3-16 SOW
Lift
10 pounds (4.6kg) minimum
Capacity
0 to 11 (280mm)
Finish
Safety Orange Urethane
Weight
5.2 pounds (2.4kg)
Automotive
Aerospace
Weld Inspection
Pressure Equipment

Piping
Fabrication
Manufacturing
Portable MPI Yoke Inspection Kits

Western Instruments' Yokes are offered in a wide variety of configurations, more than any other manufacturer of Portable Yoke Kits. No matter the need, Western's Kits are offered in Dry Method, Wet Visible Method (Black or White), or Wet Fluorescent Method. The End User simply chooses his Yoke, and his model of Kit, and they arrive in the same custom Carrying Case.
Western Instruments W-PPS Portable Inverter Power Supply

The W-PPS (W-PPSK) is a Portable Power Supply designed to operate any of Western Instruments standard AC or AC/DC Yokes. The W-PPS is equipped with an appropriately sized Battery, Battery Charger, and Inverter which should be used within the parameters in the manual.