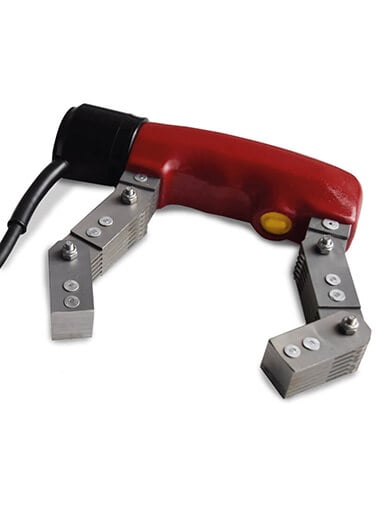 ---
Our most popular AC Yoke due to its light weight and ease of handling.
---
Minimum Lift: minimum 20 lbs (9.1 Kg)
---
Optional UL/CSA Approval
---
The Western Instruments WC-6x2 High Output AC Magnetic Yoke was designed and manufactured to aid the inspector in performing magnetic particle inspection on coated surfaces by lifting over 20 pounds. Many inspectors prefer its extra strong AC field for testing large areas with full leg extension.
The Western Instruments WC-6x2 High Output AC Magnetic Yoke uses Western Instruments' basic WC-Series Platform, but with some rather revolutionary differences, which allows this AC Yoke to lift over 20 Pounds! The WC-6X2 Platform design is similar to our standard W-Series Platforms, but far more compact. This construction versatility is possible through our advanced Mechanical, Electrical, and Solid State Electronics designs. These designs permit the WC-Series to use our standard low profile sealed membrane activation switch, continuing our philosophy for operator safety, as the switch has a grounding provision and conducts less than O Watt of power.
The ergonomically designed housing combined with its light weight, reduces operator fatigue and strain permitting better and longer inspections. The compact design allows the WC-6X2 to fit into confined spaces better than our full size W-Series Models. The urethane rubber housing provides superior durability in rugged environments. Like all W-Series products, the Power Cord Strain Relief System is the most durable in the industry.
The WC-6X2 lifts over 20 pounds, far exceeding ASTM or ASME Specifications for AC Yokes. This extra lift provides the operator with confidence that sensitivity is assured to perform Magnetic Particle Testing on Coated or Painted Surfaces. The WC-6X2 also provides greater sensitivity, than standard AC Yokes, on uncoated surfaces, and assures greater subsurface sensitivity as well. Performing Magnetic Particle Inspection, with an AC field, is the fastest and easiest way to find surface discontinuities. The AC field provides maximum magnetic particle mobility, which cause the particles to migrate quickly and congregate at defects.
20 lbs. Lift
Light Weight
Comfortable Ergonomic Grip
Grounded Solid State Switch

Sealed Switch Cover
Rugged Strain Relief
Urethane Rubber Encapsulant
Optional UL/CSA Approval
Voltage
115 and 230 VAC Nominal
Models
WC-6X2 (115V)
WC-6X2K (230V)
Current
7.0 Amps (115V), 3.5 Amps (230V)
Frequency
50-60Hz
Cord Length
8', 3-18 SOW
Lift
Lift: 20 Pounds (9.1Kg) Minimum
Capacity
0 to 11 (280mm)
Finish
Urethane Rubber
Weight
7.2 Pounds (3.3Kg)
Automotive
Aerospace
Weld Inspection
Pressure Equipment

Piping
Fabrication
Manufacturing
Maintenance
Portable MPI Yoke Inspection Kits

Western Instruments' Yokes are offered in a wide variety of configurations, more than any other manufacturer of Portable Yoke Kits. No matter the need, Western's Kits are offered in Dry Method, Wet Visible Method (Black or White), or Wet Fluorescent Method. The End User simply chooses his Yoke, and his model of Kit, and they arrive in the same custom Carrying Case.
Western Instruments W-PPS Portable Inverter Power Supply

The W-PPS (W-PPSK) is a Portable Power Supply designed to operate any of Western Instruments standard AC or AC/DC Yokes. The W-PPS is equipped with an appropriately sized Battery, Battery Charger, and Inverter which should be used within the parameters in the manual.