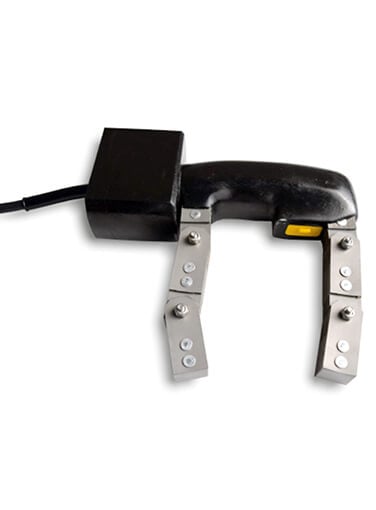 ---
Compact, Lightweight, Comfortable ergonomic grip, Grounded solid state switch, Sealed Switch cover, Rugged strain relief
---
Optional UL/CSA Approval
---
AC or DC Inspection Fields
---
The Western Instruments WE-7 Compact AC/DC Magnetic Yoke is the world's' lightest and most compact AC/DC Yoke. The WE-7 is equipped with a simple AC or DC Selector Switch. This MPI Yoke has a 6 position rotary switch for AC or 5 preset DC intensities, making the only AC/DC Yoke able to provide linear DC adjustments.
The Western Instruments WE-7 Compact AC/DC Magnetic Yoke is based on the industry standard for Yoke construction, however has Western Instruments Ruggedness and Quality built in. The WE-7 utilizes a standard micro-switch for activation, but the switch cover is our exclusive Slip in design. Like all WE-Series Yokes, the Power Cord Strain Relief is the toughest in the business.
The ergonomically designed housing combined with its light weight, reduces operator fatigue and strain, for more effective inspections. The compact design also allows the WE-7 to fit into confined spaces better than any other AC/DC Yoke on the market. The urethane rubber housing provides superior durability in rugged environments, so the WE-7 is suitable for the high Arctic or the Sahara desert.
The WE-7 lifts over 10 pounds (4.5kg) in AC Mode and lifts over 50 Pounds (23kg) in DC Mode, exceeding ASTM or ASME Specifications. The WE-7 is equipped with infinitely variable DC output, so depending on the workpiece size, the operator doesnt have to risk saturating a small part. The AC/DC Selector Switch is equipped with a unique feedback loop, to eliminate failures due to switching between modes when the unit is activated.
Compact
Light Weight
Comfortable Ergonomic Grip
Grounded Solid State Switch

Sealed Switch Cover
Rugged Strain Relief
AC or DC Inspection Fields
Optional UL/CSA Approval
Voltage
115V/60Hz or 230V/50Hz
Models
WE-7 (115V)
WE-7K (230V)
Current
4.0 Amps (WE-7), 2.0 Amps (WE-7K)
Frequency
50-60Hz
Cord Length
12(3.7m), 3-18 SOOW
Lift
AC-10 pounds (4.6kg), DC-50 pounds (23kg)
Capacity
0 to 11 (0-280mm)
Finish
Black Urethane Rubber
Weight
7.5 pounds (3.5kg)
Automotive
Aerospace
Weld Inspection
Pressure Equipment

Piping
Fabrication
Manufacturing
Maintenance
Portable MPI Yoke Inspection Kits

Western Instruments' Yokes are offered in a wide variety of configurations, more than any other manufacturer of Portable Yoke Kits. No matter the need, Western's Kits are offered in Dry Method, Wet Visible Method (Black or White), or Wet Fluorescent Method. The End User simply chooses his Yoke, and his model of Kit, and they arrive in the same custom Carrying Case.
Western Instruments W-PPS Portable Inverter Power Supply

The W-PPS (W-PPSK) is a Portable Power Supply designed to operate any of Western Instruments standard AC or AC/DC Yokes. The W-PPS is equipped with an appropriately sized Battery, Battery Charger, and Inverter which should be used within the parameters in the manual.