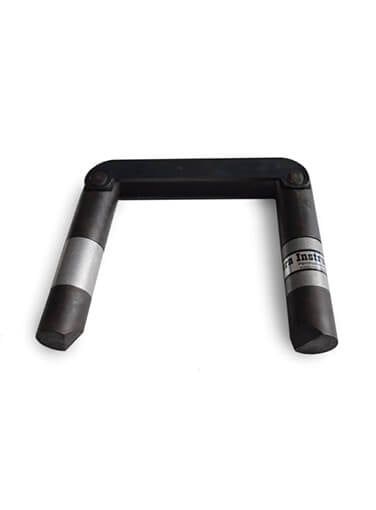 ---
Available in 3 models: Standard, Light & Compact and Cable Type
---
Powerful lift, No recharging, Completely portable, Durable, Hinged frame and Cable type, Hazardous zones
---
Westerns' Permanent Magnet Yokes are offered in 2 configurations: WM-5LT and WM-5C.The WM-5C lift over 70 lbs (32 Kg) when new and the WC-5LT over 60 lbs (27.5 Kg), and after years of use will settle at their certified lift of 50 lbs (23 Kg).
Western Instruments offers 2 models in the WM-Series of Permanent Magnet Yokes. These models consist of both Hinged Frame and Cable Type configurations, so the inspectors preference is assured. Permanent Magnet Yokes are a great convenience in Magnetic Particle Inspection, due to their complete portability, as no electricity is required. All WM-Series Yokes utilize Rare Earth Magnet Cartridges specifically manufactured to our high performance needs. WM-Series Yokes lift over 60 Pounds, and with recharging not being necessary, the minimum lift of 50 pounds (23 Kg) is assured for years.
The WM-5LT is Hinged Frame unit, equipped with Rotating Contact Feet, which easily permits the inspector to maximize the contact area between the Dual Contact Surfaces on the pole pieces and the workpiece. This unit has a field replaceable magnet cartridges, in the unlikely event of a failure. The WM-5LT is a light weight alternative.
The WM-5C is our Cable Type Permanent Magnet Yoke. The Coated Cable allows a great deal of flexibility to easily permit maximum contact area between the Non-Ferrous contact surface and the workpiece. The Hand Grip is Ergonomically designed for operator comfort, with provisions for easy removal off the workpiece.
Western Instruments WM-Series Permanent Magnet Yokes
Calibration Certificate
Instruction Manual
Powerful Lift
Light Weight
Compact
No Recharging

Completely Portable
Durable
Hinged Frameand Cable Type
Hazardous Zones
Applications:
Automotive
Aerospace
Weld Inspection
Pressure Equipment

Piping
Fabrication
Manufacturing
Models

All sizes of WDV or WDP Series Coils

Voltage
115VAC or 230VAC (Nominal)
Current
WDV - 0 to 20 Amps (Model Dependent)
Capacity

WDV - 0 to 16,000 Amp-Turns (Model Dependent)
WDP - 10,000 Amp-Turns (min. values)

Frequency
50 or 60Hz
Size
8.5, 10.5,14, 16 25 ID Min.
Weight
Model & Size Dependant 23 to 52lbs. (10.5-23.6kg)
*Standard Voltage is 115 VAC, 230 VAC is optional.
*Options; Cast Feet; and Removable Power Cord, ID Wear Bars, AC Output, Foot Switch.
*Separate Power Supplies are available for retrofitting coils